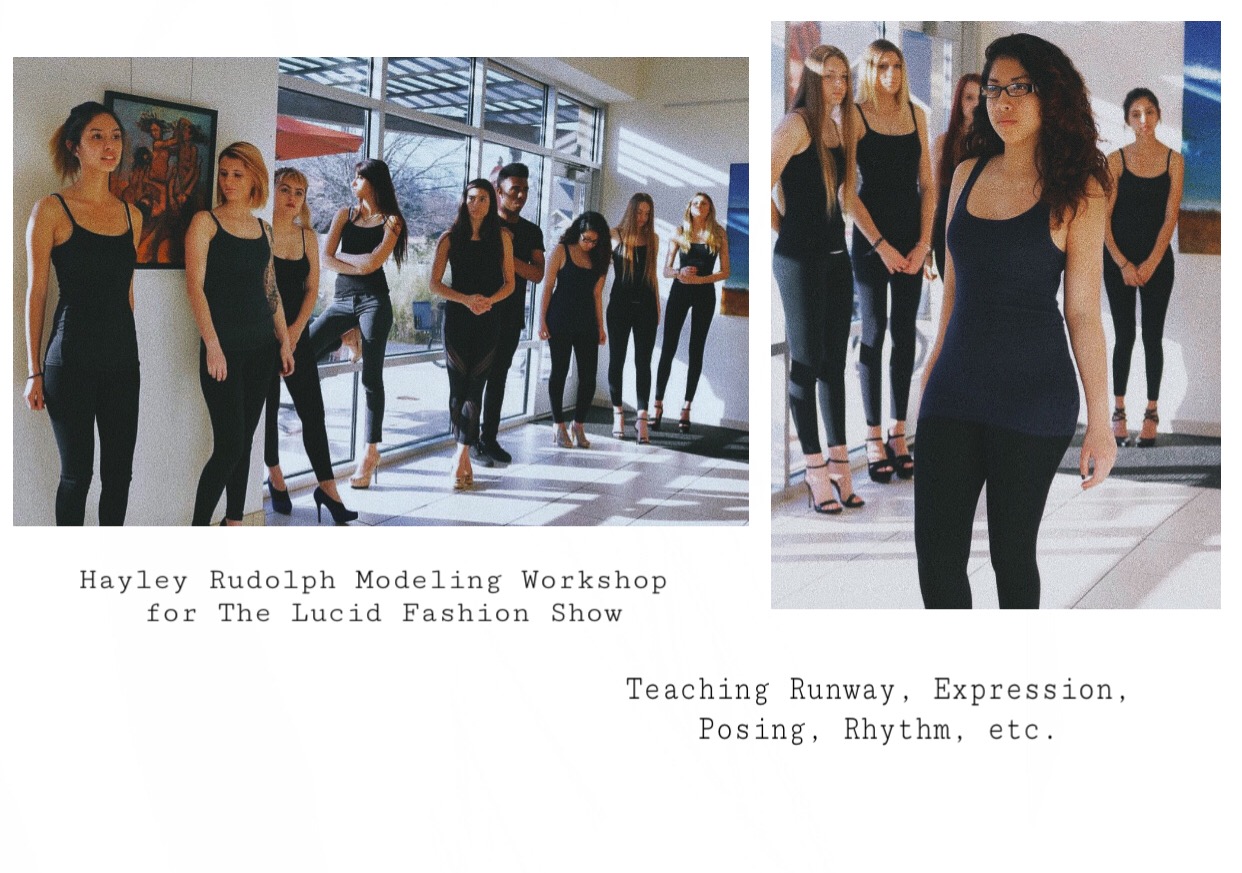 Hayley Rudolph has been teaching modeling, acting, & networking for 9 years. She began teaching acting when she lived in California when she starred in a TV series for ABC family. The kids on the show would get lessons from her to work on their "naturalness" in acting. She co-worked with the famous acting coaches Lisa Picotte & David Kaufman for teaching dramatic acting in workshops. Hayley did many short films, commercials, and features while filming the TV series in LA. When the show didn't get picked up on ABC & was replaced by 'The Fosters', Hayley began doing more modeling instead of acting because she enjoyed the camera more than film. Her little brother, Grant Rudolph, was interested in acting but didn't know how. She began teaching him how to act & he starred in a 'Baskin Robbins' commercial, 'Duracell Battery' commercial, 'This is 40' Feature Film, many short films that have won awards in festivals, & more.

Hayley continued modeling in California with her agency & management, she was published in many different clothing brands such as 'Justice', 'Macy's', 'Dillard's', 'The Limited', & more. She was also shot by some of the most famous photographers in LA, so when she moved to Dallas TX & continued to model, it was pretty easy to build up her clientele.

Hayley was off & on of modeling for a few years as she finished school & worked on just coaching & teaching student clients. When she started fully modeling again, she was able to meet new aspiring models & help them grow in the industry. Just a year after helping various aspiring models, Hayley had a full list of actors & models she was teaching on a regular basis. Hayley began holding workshops for Acting, Posing, Runway, & Networking. She also teaches private classes from the basics or for specific elements the student is wanting.

Hayley's clients have always gotten far in the industry as she helps them network & helps them get work.
Whether it's acting or modeling, Hayley always will send jobs your way & give you the best advice.


To book a class with Hayley or get more info, email :

HayleyLrudolph@gmail.com
Teaching
Hayley Rudolph has been teaching modeling, acting, & networking for 9 years. She began teaching acting when she lived in California when she starred in a TV series for ABC family. The kids on the show would get lessons from her to work on their "naturalness" in acting. She co-worked with the famous acting coaches Lisa Picotte & David Kaufman for teaching dramatic acting in workshops. Hayley did many short films, commercials, and features while filming the TV series in LA. When the show didn't get picked up on ABC & was replaced by 'The Fosters', Hayley began doing more modeling instead of acting because she enjoyed the camera more than film. Her little brother, Grant Rudolph, was interested in acting but didn't know how. She began teaching him how to act & he starred in a 'Baskin Robbins' commercial, 'Duracell Battery' commercial, 'This is 40' Feature Film, many short films that have won awards in festivals, & more.

Hayley continued modeling in California with her agency & management, she was published in many different clothing brands such as 'Justice', 'Macy's', 'Dillard's', 'The Limited', & more. She was also shot by some of the most famous photographers in LA, so when she moved to Dallas TX & continued to model, it was pretty easy to build up her clientele.

Hayley was off & on of modeling for a few years as she finished school & worked on just coaching & teaching student clients. When she started fully modeling again, she was able to meet new aspiring models & help them grow in the industry. Just a year after helping various aspiring models, Hayley had a full list of actors & models she was teaching on a regular basis. Hayley began holding workshops for Acting, Posing, Runway, & Networking. She also teaches private classes from the basics or for specific elements the student is wanting.

Hayley's clients have always gotten far in the industry as she helps them network & helps them get work.
Whether it's acting or modeling, Hayley always will send jobs your way & give you the best advice.
Various Photos are of just a few of Hayleys clients.

To book a class with Hayley or get more info, email :

HayleyLrudolph@gmail.com